By Dan on March 08, 2015 4:57 PM
By Dan on March 06, 2015 4:00 PM
I met David Quakenbush through the Denver Light Painting Facebook group and we've done a little work together. He has put together a light vortex that involves a live projection feedback loop and dancers with lights. Check out his work here and if you get a chance to see him at a First Friday his studio is upstairs at 841 Santa Fe.
This is a long exposure shot of Mary Cates dancing in the vortex:
By Dan on February 20, 2015 8:52 AM
Light Painting Brushes is having a contest that ends tomorrow with the theme of "Light Writing". I needed to contribute something. I got my new camera rotation tool from London and decided to mix it up a bit. Cat was my model (along with me, thanks for fighting through being sick!) and Jeff helped out with a second set of hands.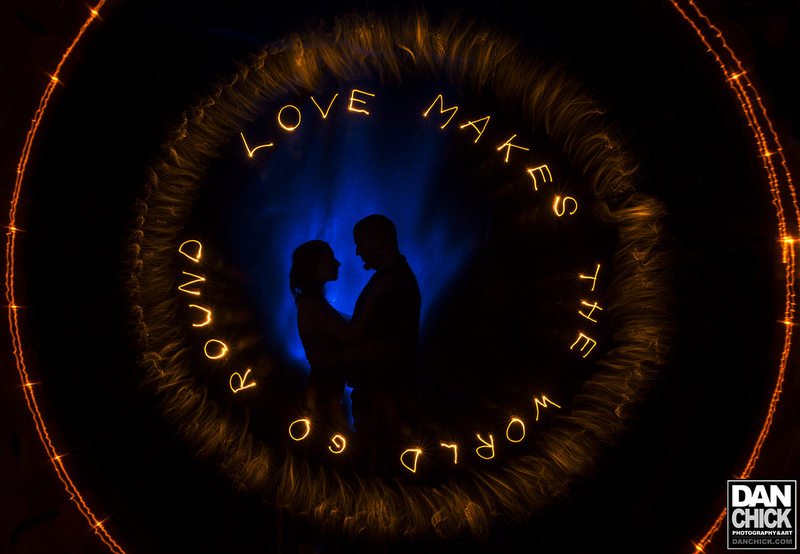 By Dan on February 20, 2015 8:49 AM
By Dan on February 20, 2015 8:48 AM
By Dan on January 16, 2015 10:43 AM
I recently bought a gimbal and have been using it in conjunction with long-exposure to do rotational light painting pictures. Here is one from my first session with Theresa Lopez. Click into it and see a few more that we made that night!
These are all done in-camera in a single shot while rotating the camera along the optical axis.
By Dan on December 18, 2014 2:56 PM
By Dan on December 03, 2014 10:38 AM
Last night I shot with Kenzie and we created some beautiful abstract pieces. Check out the light painting gallery for ten shots but enjoy these three to get you started...
By Dan on November 28, 2014 10:20 AM
Tarena asked me to come shoot with her and a few other models this past week. She had access to a house with an indoor pool and we were going to shoot with water! I built a huge box periscope so that I could attempt underwater shots without actually having an underwater housing for my camera. The notion of underwater light painting was too appealing to pass up When actually put to the test my periscope, labor of love that it was, only last a short while. It may be resurrected at some point in the future with lessons learned.
After that we shifted to light painting with a tripod set up on the side of the pool. We shot on two separate days and created some amazingly unique images! Big thanks to Diana, Tarena, Shannon, Adriana, Jamie, and Dawn for modeling and to Justin for making the house available. Here is one of the shots, the rest are in my light painting gallery. The rest, other than the money shot that will be revealed as part of the project that Tarena, Dawn, and Shannon have been working on for a year!
By Dan on November 26, 2014 11:37 AM