By Dan on May 18, 2018 9:00 AM
We have just completed an ambitious project! Built on my Piece Out website, we built a 456 image mosaic of Van Gogh's The Starry Night. It was shot for UNESCO's International Day of Light with the support of the Light Painting World Alliance. 50 photographers from 20 countries took part!
Read the whole story on Light Painting Blog!
By Dan on April 23, 2018 9:32 AM
Just over two years ago Rebecca Bailey and I conceived of a project. We had just finished shooting a Bombshell Harley Quinn light painting shoot and thought it would be cool to do something based on Marvel's Jessica Jones, Season One. "Let's tell a story, comic book style, and light paint all the panels". We recruited Ryan Jones to assist, then nothing happened.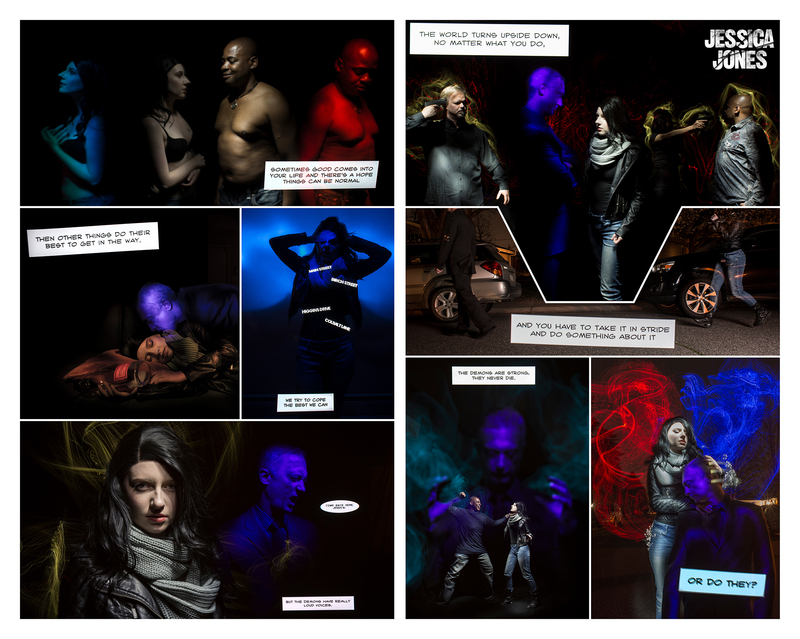 Continue Reading
By Dan on April 06, 2018 8:07 PM
The past 13 months have been a bit of a blur.
Nancy and I took a trip to Rome for our first LPWA meetup. A few months later we drove to Mt. St. Helens for our second. A few weeks after that we hosted the 2nd Colorado Meteor Jam in Steamboat Springs, CO. A month after that we went to Berlin for Lightpainters United and got engaged (via light painting!). We took a couple trips to Vegas for hockey games and family. Two days ago we got back from a trip to Belgium with Lightpainters United.
Continue Reading
By Dan on June 30, 2017 9:17 AM
By Dan on April 25, 2017 8:30 AM
Recently I had a chance to to Rome for the LPWA meetup. I had a great time meeting other light painters from around the world and I got to give a presentation called Available Light about using infrared and full-spectrum photography in light painting. I recorded the video on my infrared camera and Nancy recorded it on her phone as well. I put the two together and have shared the resulting video on Vimeo.
Just prior to the Rome trip I took inspiration from a discussion on the Camera Rotation group on Facebook and made a slight modification to the device that Juls Boo had posted. I put together a video for that one as well to show how to put it together and how it works.
Check them both out over on my tutorials page!
By Dan on January 18, 2017 12:29 PM
I took a break but I'm back in the game. Part of my return was fueled by finally getting my hands on my Fractal Filters order. Sometimes post-Kickstarter an order gets lost in the cracks and that was the case with mine. To their credit, they were amazingly responsive on the order I placed since then for a friend.
Prism, infrared, on-white, on-location-on-white. New people to shoot, new people to shoot with. It's time to keep that camera going again.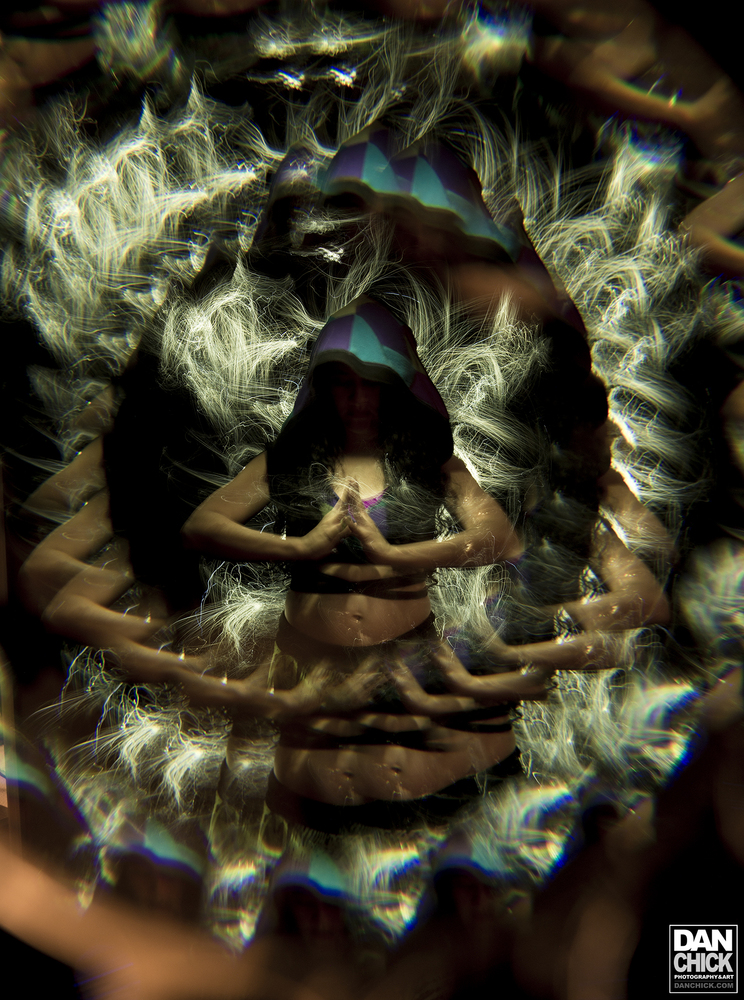 This particular shot is Michelle, through Fractal Filters with Light Painting Brushes black fiber as a light tool.
I also have some exciting news and that news might be the subject of my next blog post!
By Dan on June 16, 2016 6:56 PM
I just released the initial version of Mosaic Now. Bascially it's a Processing.org script that takes a file feed from a live camera and lets you build mosaic light painting images with a live preview and editing ability.
By Dan on February 16, 2016 5:17 PM
I just posted a new tutorial on using Iridescent Gift Foil as a Lighting Effect. Click the sample shot below or the link to see the full content.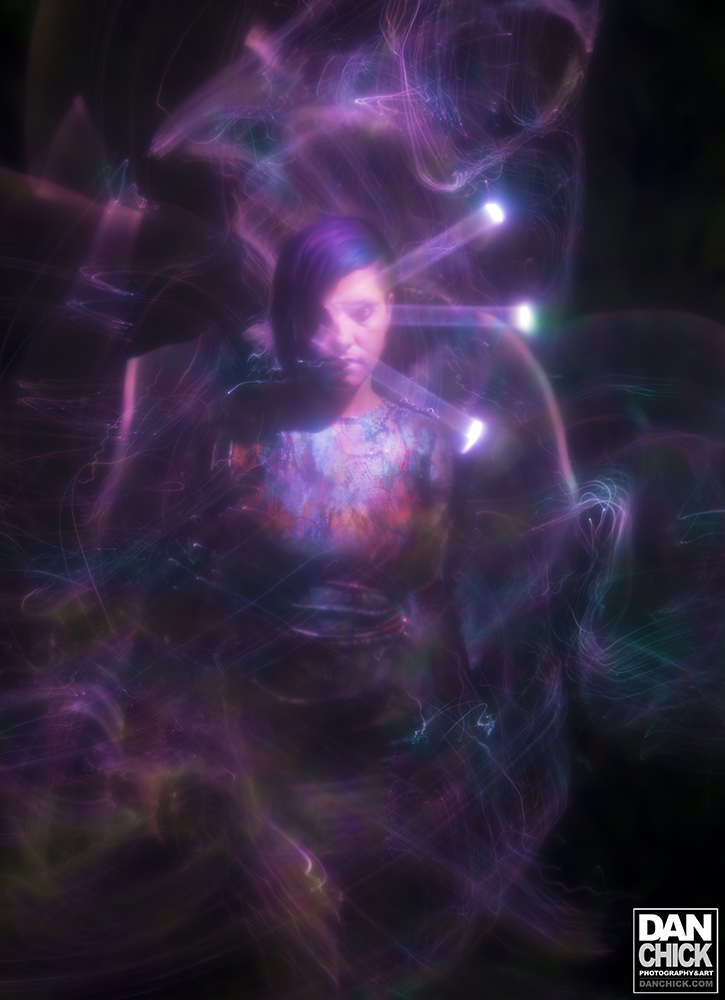 By Dan on February 08, 2016 11:54 PM
By Dan on February 05, 2016 10:00 AM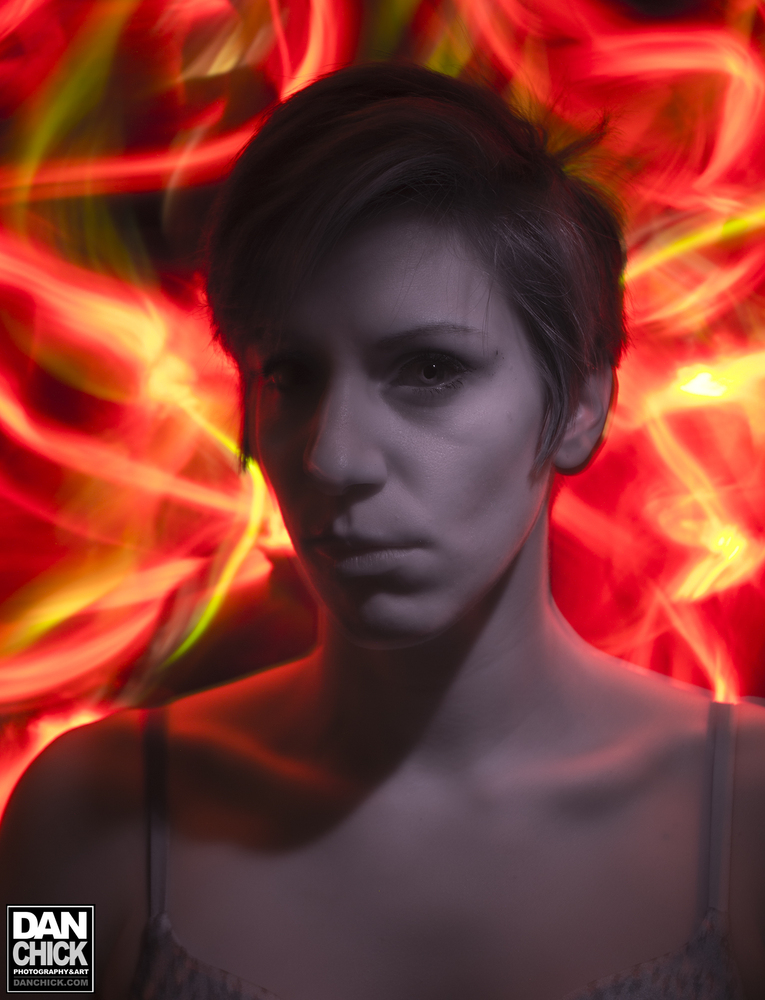 On Wednesday I received the package with my new full-spectrum camera. This is essentially a regular digital camera where the infrared filter at the sensor has been removed and the sensor has now become sensitive to all wavelengths of light, visible or not.
I received another package with an infrared flashlight. That puppy is weird. It produces only light waves that are invisible to the human eye. When I put the batteries in there was no way to see that it was working until I looked at it through my full-spectrum camera in live view.
I opted for full-spectrum over a straight infrared camera because I had an idea. The idea was to do a single light painting shot where some of the light was captured exclusively in the infrared spectrum and some of the light was from the visible spectrum.
Continue Reading