By Dan on February 16, 2016 5:17 PM
I just posted a new tutorial on using Iridescent Gift Foil as a Lighting Effect. Click the sample shot below or the link to see the full content.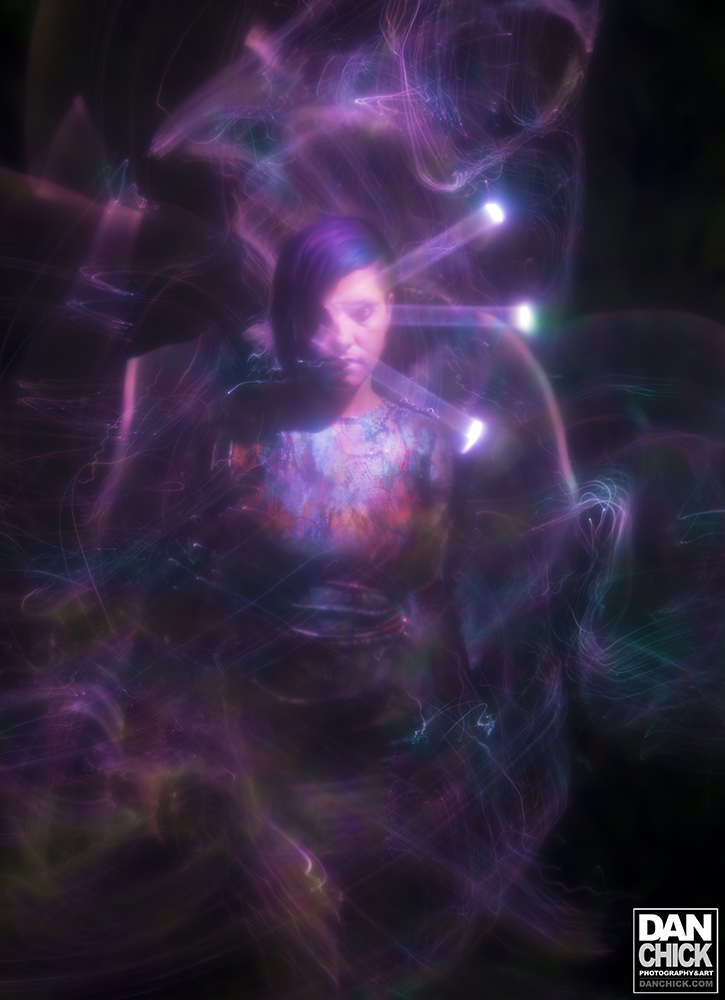 By Dan on February 08, 2016 11:54 PM
By Dan on February 05, 2016 10:00 AM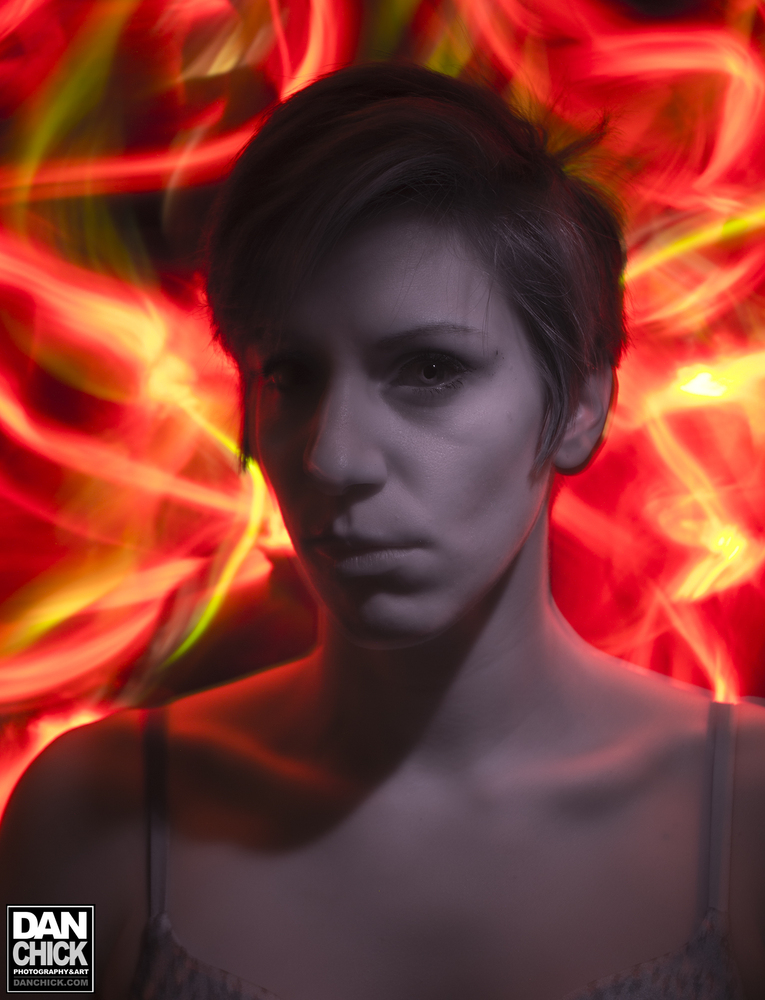 On Wednesday I received the package with my new full-spectrum camera. This is essentially a regular digital camera where the infrared filter at the sensor has been removed and the sensor has now become sensitive to all wavelengths of light, visible or not.
I received another package with an infrared flashlight. That puppy is weird. It produces only light waves that are invisible to the human eye. When I put the batteries in there was no way to see that it was working until I looked at it through my full-spectrum camera in live view.
I opted for full-spectrum over a straight infrared camera because I had an idea. The idea was to do a single light painting shot where some of the light was captured exclusively in the infrared spectrum and some of the light was from the visible spectrum.
Continue Reading
By Dan on January 26, 2016 5:28 PM
I've been a serious light painter for two and a half years now. I started by learning some basic tools and what I could do with them. After a time I returned to my background of being a studio model photographer and really focused on using light painting techniques in model photography. During that time I really focused on the model rather than the lights; the lights were a tool but the picture was really more about the person.
I got a chance to shoot with Kerry Elizabeth Barley a week or two ago and asked her if she wanted to try something more experimental. You see, early on I saw the work of Aurora Crowley and wanted to try some stuff in that vein. I've barely interacted with Aurora and I don't know how much of his stuff is in-camera and how much of it is post but I loved his style and wanted to see what I could do with that as inspiration. He shot with models, he shot with lights, he shot on non-black backgrounds, he composed shots and also let them drip with emotion. When Kerry said she liked the idea of experimenting it was time to experiment.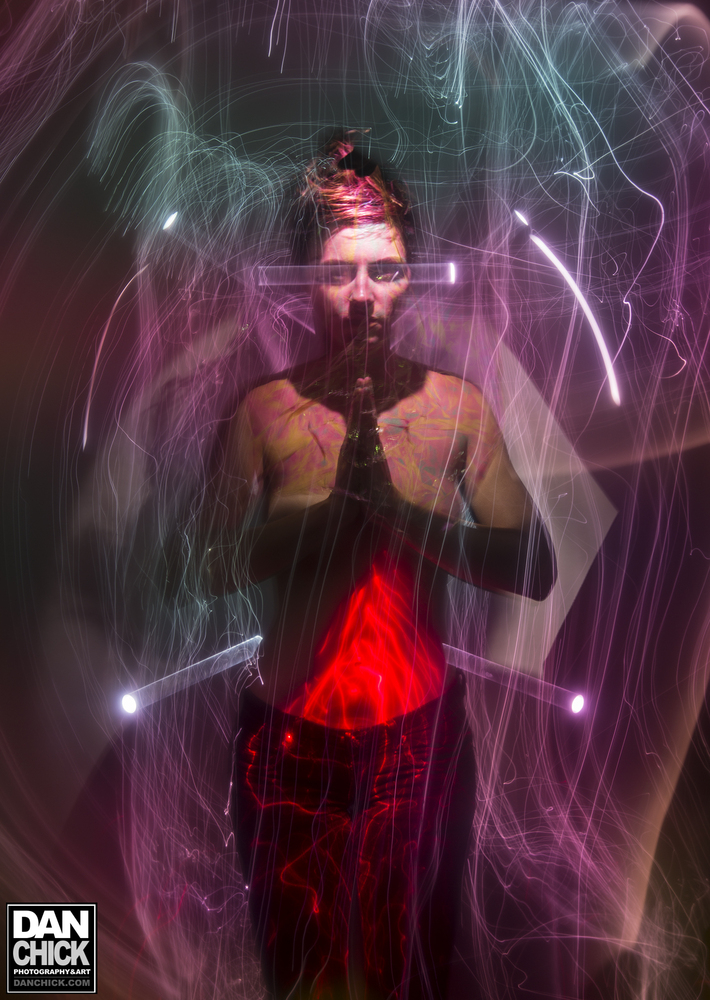 This is a new style I'm unveiling and I expect to shoot a lot more of it in the near future. A big thanks to Kerry for doing this with me. We had a blast and it's the start of things to come.Some black and white, some color, some images that involve models but also very much involve the lights. It's time to flow and emote!
By Dan on January 15, 2016 2:28 PM
I just posted a new tutorial on how to create light painting images with white backgrounds. Lots of sample pics, two different techniques, tips for making colored backgrounds or backgrounds with specific stencil patterns too. Check it out here!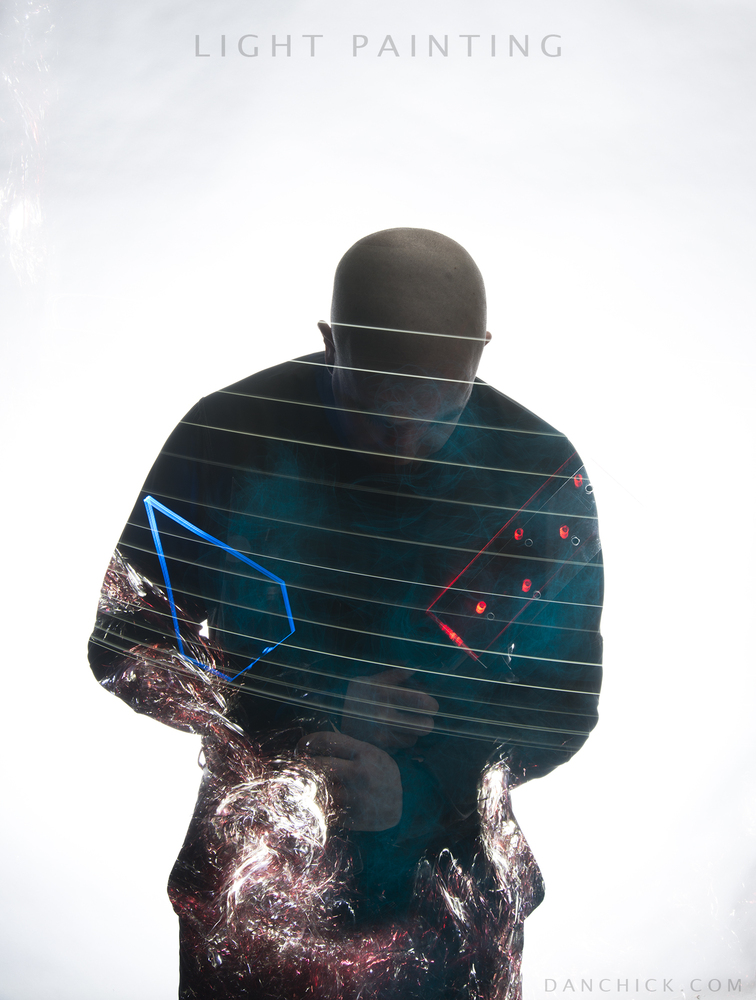 By Dan on January 12, 2016 12:12 AM
Today the world lost an artist that moved a lot of people. Kaitie Amen and I had already planned to shoot tonight and to do a Bowie-inspired lightning stencil. We came up with three Bowie pieces and then shot three comic pieces that are worth checking out. As always with all of my work, all light was created and captured in a single long exposure. Camera Raw was used to balance some levels but otherwise what you see is exactly what we saw on the back of the camera when the shutter closed!
You can buy prints of these pieces here.
Continue Reading
By Dan on August 10, 2015 1:03 PM
If you made my Skytalks talk in Vegas this past weekend thank you so much! It was exciting to see so many people running around wearing badges I designed!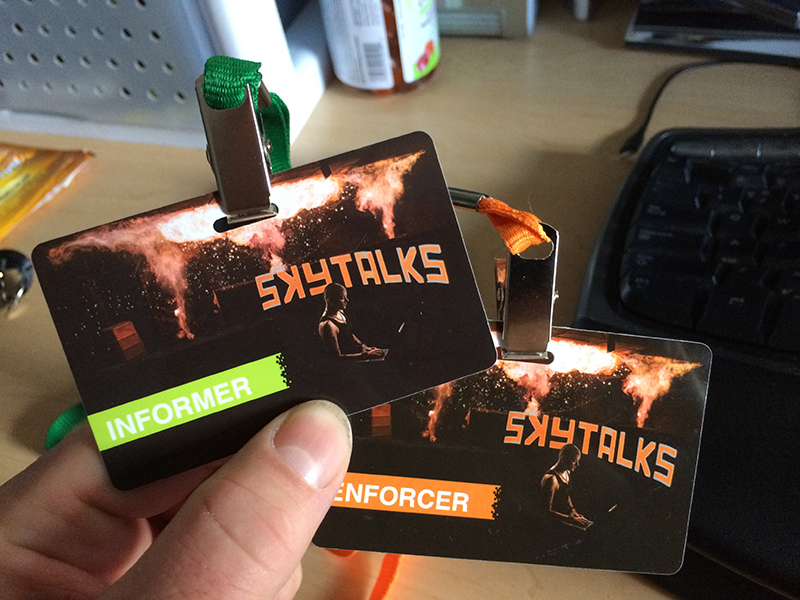 I promised links to my presentation. I have modified it slightly to include some more of what I said while the slides were up. Download them and check them out! Powerpoint and Keynote formats.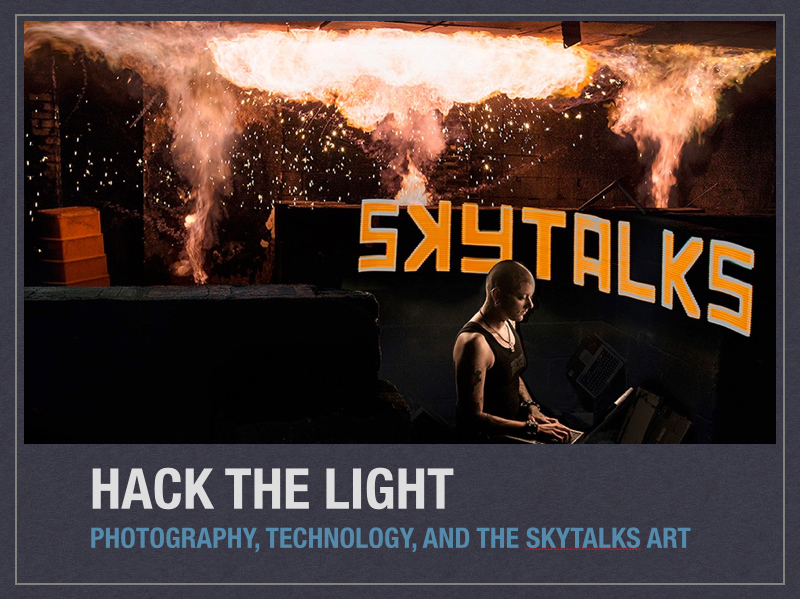 By Dan on July 11, 2015 11:51 AM
I shot the Fantasy-themed Ominous event last night. Here are my two favorites of Rufio and Bree. See the whole set here, you can purchase prints or download high resolution images of your shots.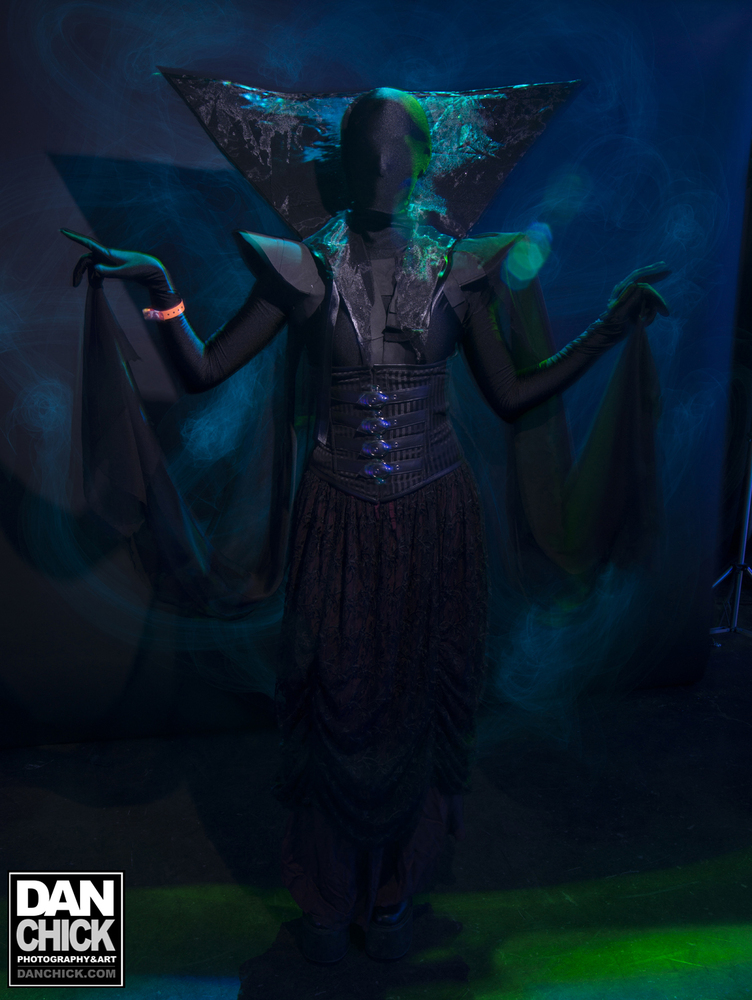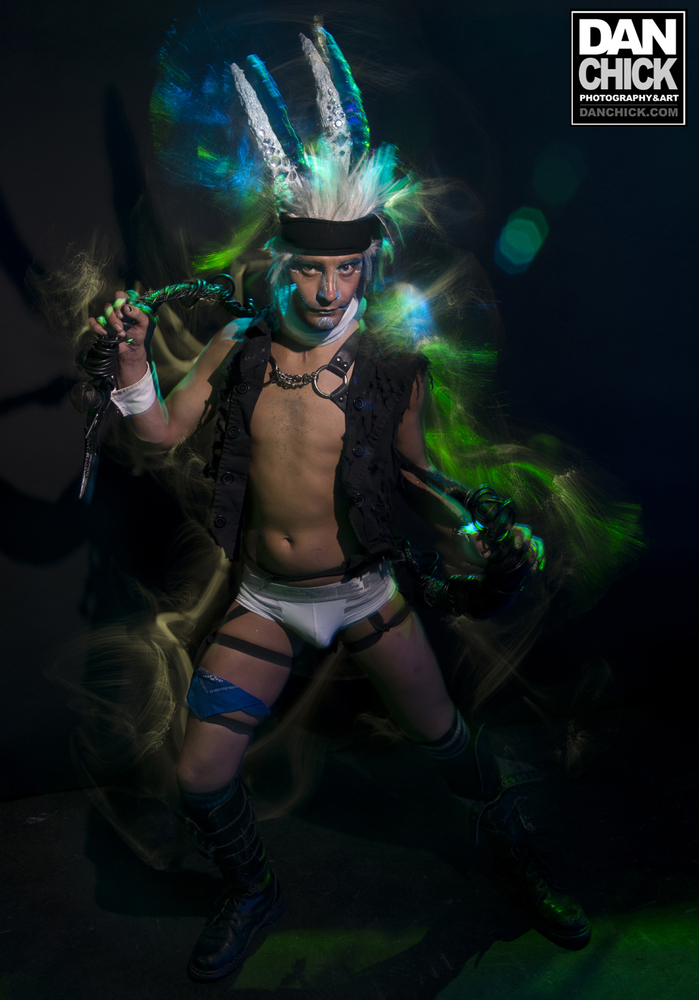 By Dan on July 04, 2015 11:00 AM
I was walking down the First Friday art walk last night and saw an empty gallery with a single table in it. And then I saw a light painting print on it. I looked closer and it was David Wilhelm filling in last minute. He told me to grab my gear and shoot in the basement of the building and after walking around a bit more I did just that.
If I shot with you last night or if you want to see what we came up with in a make-shift shooting environment click the image or visit this link: http://danchick.smugmug.com/First-Friday-July-3-2015/
Feel free to grab the preview versions on the site but please leave my photo credit on there. If you want to download a high resolution version of an image click the green "Buy Photos" link and then selects "Downloads".
By Dan on July 02, 2015 10:42 PM
A couple days ago I got a chance to shoot an old friend, Carre Callaway, when she was in town with her band, Queen Kwong. I got some conventional shots and I tried to mix in some 'found light' light painting. And by that I mean using whatever lights were at the venue with whatever angles I could get without being disruptive to the show. Three bands, three new galleries. Check out Montoneros, The Savage Blush, and Queen Kwong!